What are stacks?
A stack is essentially no different than a folder on a computer. The difference is subtle, folders on operating systems hold files and stacks hold links. Think of it as a stack of links, kind of like a stack of cards. The order/hierarchy of the links you create can mean whatever you want it to. The stacks remember the order things are placed in and keeps them there. That is the nature of a stack.
Why stacks?
The majority of other bookmark managers that exist have done things very differently from how we have. Most have completely done away with bookmark folders altogether, meaning all your bookmarks are contained in single-dimensional (or at most 2-dimensional) lists of links they call tags. There are a few major problems with this that we will explain here.
1) Tags can get way overcrowded and messy and eventually defeat the purpose of having a list in the first place.
Let's say for example we create a new tag called `design` for links to websites that we like the look of and find inspirational. You save a lot of links to this tag on a weekly basis, but unwittingly also save links to design resources to that same tag, as well as nice architecture images, cool cars and whatever else comes to mind that is design related. Now when you want to see nice designs of websites, you try to explore them using your design tag can't because it has become polluted with all sorts of content that you're not currently looking for. You could create more tags to drill it down further or more specific tags so that they don't get mixed up but that leads us to the next problem.
2) Creating too many tags creates another mess.
So to solve the issue in the first problem, we have created more specific tags to be able to drill down on links and tags so that things that don't belong with each other don't get mixed up over time. Eventually, when enough tags are made and enough bookmarks are saved you're left with an inconceivable mountain of tags. But the average person can't hold on to so many tags in their memory, and long lists get really hard to use. It makes the task of choosing tags exponentially harder which is why it's good to compartmentalize and organize. Still, some people may argue that you don't need to look at your tags to navigate them, you can just search for them by their keywords to find what you're looking for, which brings us to our next problem.
3) Inconsistencies of button placement when you're using a lot of tags and bookmarks.
It's nice to think of ourselves as better than machines. Better than the machines we spend so much of our time on, but the fact is that our minds don't work with the same accuracy as computers do by a long shot. This inaccuracy is ever-present when trying to think of the consistent tags that you have used in the past to label a given link. If you're only ever going to save a few dozen links in your life, you probably get by just fine but otherwise, it's not so easy. We won't always come up with the same word for tags every day, month after month. Tags will be given inconsistent names especially when multiple tags are needed just to properly store the link.
How do stacks solve these problems?
It's human nature to want to collect things and store them away in a later retrievable fashion. Unlike tags, stacks can be nested within each other to help create structure and organization. They work very similar to tags in the sense that stacks can give meaning to links but the meaning remains contextual based on the stacks further up the hierarchy.
How should you use stacks?
It's up to you to design whatever structure that is most conducive to you being as productive as possible. Stacks can be hierarchically organized within each other to create meaning. The meaning is up to you but some examples are categories, subcategories, collections, quick access links, etc. The structure of the stacks you create can be seen as a mindmap to the parts of the internet that hold meaning to you.
Helping you target your focus.
Browser bookmark managers use a combination of a tree structure to display the folders and a list of the folder you're currently on. Tree structures leave you with a long vertical list that is difficult to visually navigate. The way we display stacks on WebCull is completely different and unique, designed to help you focus on your current location while still letting you easily access the past stacks that led you to your current location. We believe this layout to be more clean, organized and less mentally draining to use.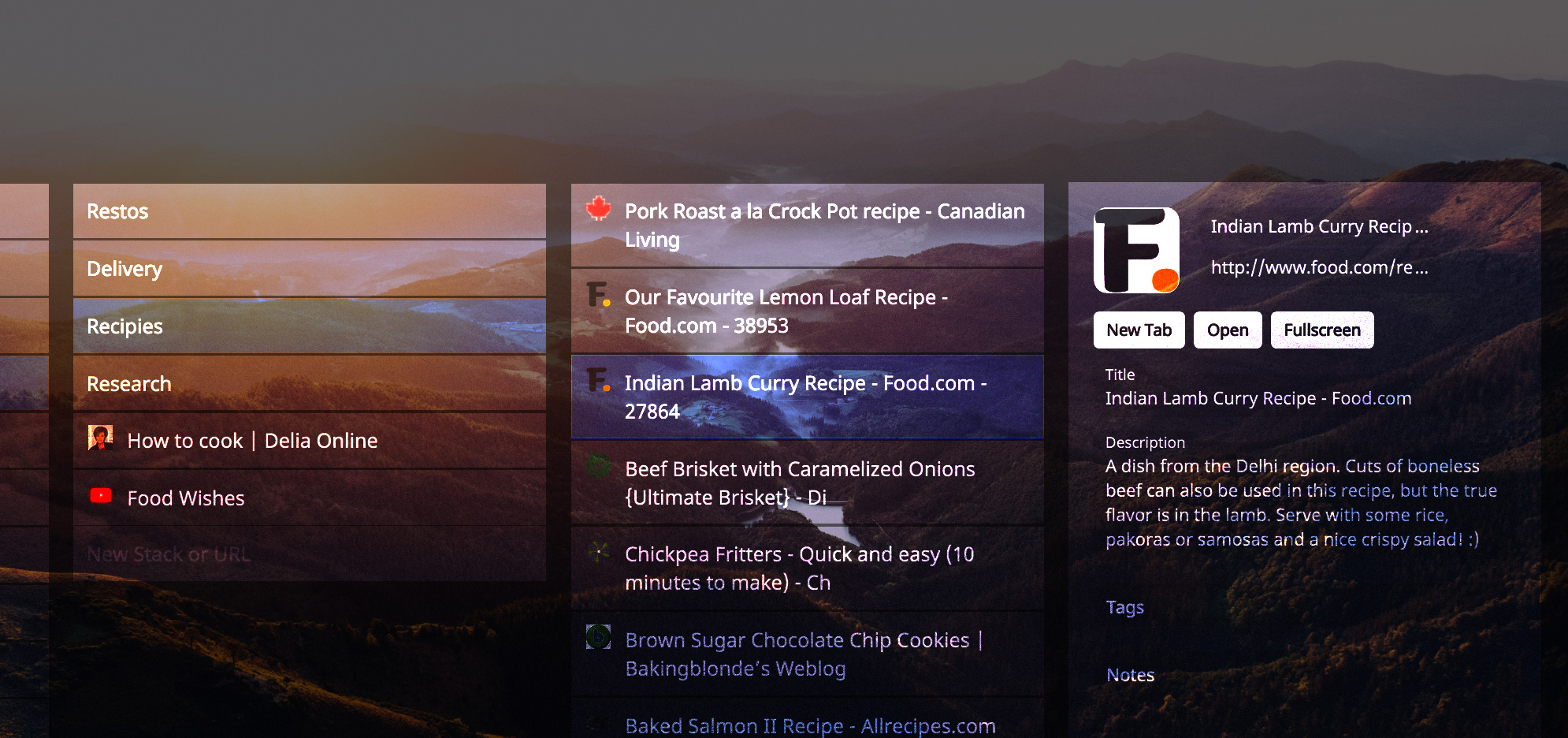 Does WebCull still use tags?
Yes, absolutely but the mentality behind them is a bit different. On WebCull tags come into play when you do searches. Let's say you have saved a link that you want to come up when you search for something specific. Simply add the keyword of your choice to the tag section of the bookmark and now that keywords will rank strongly when searched for.
Learn about other features